All of Me, Presenting Our Bodies as a Living Sacrifice – Holy and Acceptable
Hello family! I hope you are enjoying this beautiful season! It is starting to get chilly (and I love it)! How's the weather where you are?
Last week, we looked at the "why" behind Paul's passionate plea found in Romans 12:1-2. Paul begs us to present our bodies as a living sacrifice, not for fame and fortune, not for status and notoriety, not even to gain special favor and blessings from the Lord. We present our whole bodies in worship because God has been so good! His manifold mercies, unparalleled truth, and uncommon favor continually pour out on our lives. For these reasons, we cannot help but give Him all of us! 
The Word tells us to present our bodies in a specific way- holy and acceptable.
Holy and acceptable is a nod to the Old Testament system of sacrifice. The sacrifice that was to be offered to God in the Old Testament system was to be unblemished and without defect.
Your lamb shall be without blemish, a male of the first year. You may take it from the sheep or from the goats. Exodus 12:5 (also see Leviticus 22:22, Deuteronomy 15:21)
The sacrifice made could not be sick or lame. It could not be malformed or disfigured in any way.
Though this was true, the Lord had to chasten His people in Malachi because they did just that! They offered lame and sick animals in an effort to please God. God, however, only accepted sacrifices that were made from obedient hearts. Those who obeyed God followed His instructions and made sacrifices that were "acceptable unto God".
The old covenant sacrificial system ended with Jesus Christ. He is the once-and-for-all sacrifice for sin. The sinless Lamb of God, who takes away the sins of the world.
So, what about our sacrifice? First and foremost, we are not making a sacrifice for sin! Jesus has already done that!
We are to be a living sacrifice! We offer ourselves–ALL OF US–to God.
And what kind of sacrifice pleases God? One that is holy and acceptable.
How, then, do we offer holy and acceptable sacrifices when we are flawed and fragile? We have blemishes and defects that prevent us from being acceptable unto God. To offer a living sacrifice that is holy and acceptable, we must die to self, our flesh, and our sinful passions. This is no longer a popular message in the church, but it is still true: God wants holy and acceptable worship.
Again, we must consider Jesus. Because of His beautiful work at Calvary, we have been washed in the blood. When we accept Jesus, we are justified. We are acceptable only because of Jesus.
You also, as living stones, are being built up a spiritual house, a holy priesthood, to offer up spiritual sacrifices acceptable to God through Jesus Christ.
1 Peter 2:5
Because of Jesus, we can now offer acceptable sacrifices to God! It is only because of the PERFECT sacrifice that we can offer anything!
I love this doxology from Jude 1:24-25
Now to Him who is able to keep you from stumbling, and to present you faultless
before the presence of His glory with exceeding joy, to God our Savior, Who alone is wise, be glory and majesty, dominion and power, both now and forever. Amen.
With great joy, Christ presents us unblemished and blameless before the Father, because we have been washed in the blood.
This is not without responsibility on our part.
Do not present your members as instruments of unrighteousness to sin, but present yourselves to God as being alive from the dead, and your members as instruments of righteousness to God. Romans 6:13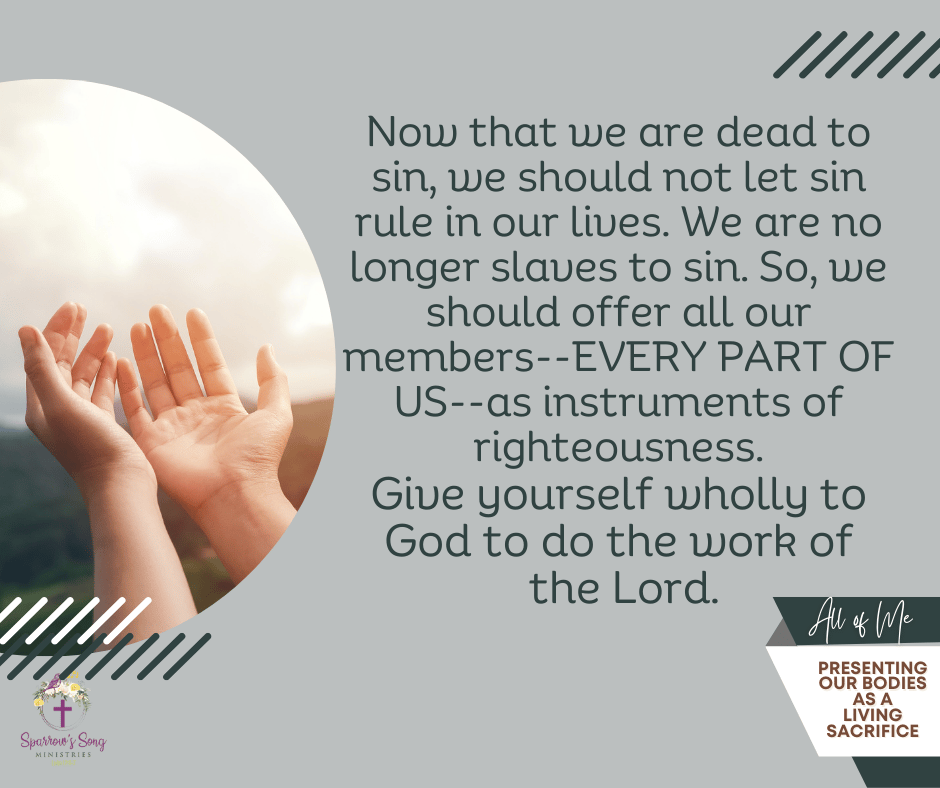 Do not offer the parts of your body to serve sinful desires. Do not use your bodies as things to do evil. Devote the parts of your body to God as tools to do what is good and right. Every body part should be used for His service. Every part of you is a vessel for His use.
Let this encourage you who may struggle with sinful habits, desires, and thoughts. Do your part! Do all you can to walk in step with the Holy Spirit. Put away sinful practices. Don't use your members as instruments of unrighteousness, as if you are still a slave to sin. Know that you have been rescued from sin's power and are no longer a slave. You have been made free! Live in that freedom! Don't let sin have dominion in your life.
And where you fall short, keep your faith in the power of the Cross. Only Jesus can present us blameless and unblemished. And in His great love, He does just that.
It is this Great love that compels us to give Him our all.
Pause:
Are you using your body as an instrument of righteousness? Are you living like someone who is dead to sin and alive in Christ Jesus?
Prayer:
Dear Father,
Thank You for all that You have given me through Jesus. Please help me to die every day to sinful desires that try to ensnare me. Help me present my body parts as instruments of righteousness that I may serve You wholly and completely. Thank You for being declared righteous through the blood of Jesus. Help me serve You with my life and give You all of me.
Praise:
Use the doxology from Jude 1:24-25 and give praise to God. Jesus takes great pleasure in presenting us to the Father. What a wonderful Savior!
May the God of hope fill you with all joy and peace in believing so that by the power of the Holy Spirit, you may abound in hope. Romans 15:13
Your friend in the journey,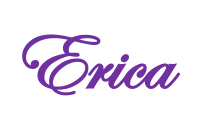 Remember: The Word W.O.R.K.S. We are walking in Wholeness, Obedience, Righteousness, and Kingdom Success through the Word of God.