All of Me, Presenting Our Bodies as a Living Sacrifice – Consider His Goodness
This week, we are looking at Romans 12:1-2. This is a very familiar passage for most believers. Many have heard that we must present our bodies as a living sacrifice. We have heard that it is important that we are holy and acceptable to God. We know we must resist conforming to the world's ways but rather be transformed by God's Word.
These are all familiar to us.
What many tend to overlook is the why behind Paul's appeal.
Paul says, "I beseech you therefore, brethren, by the mercies of God, that you present your bodies a living sacrifice, holy, acceptable to God, which is your reasonable service."
Paul strongly urges us to worship God with all we have. Why? Because God has been so good!
In the Epistle to the Romans, Paul masterfully lays out the manifold mercies of God. God Initiated by His love:
We have eternal life through Jesus. Romans 6:23
We have been justified, and we are now at peace with God. Romans 5:1
God sent Jesus, and in due time, He died for the ungodly. Romans 5:6
God demonstrates His love for us in this: Christ died for us while we were still sinners. Romans 5:8
We have redemption through Christ Jesus. Romans 3:24
Jesus became the propitiation for our sins. Romans 3:25
He gave us a new identity. Romans 6:6-8
He sanctifies us. Romans 7:7-25
We have hope. Romans 8:24-25
And so much more! We could glean Paul's words and find many more beautiful expressions of God's love for us.
In light of all He has done for us, it is only right and fitting that we give Him our all! Because of all that God has done for us, and when we consider all His goodness, it is only reasonable to present our bodies in worship. Our whole being! Your heart, mind, and body. God wants all of us!
We were created to love God with all we are–heart, soul, and strength. This is the greatest commandment and our highest calling and, therefore, should be our utmost priority.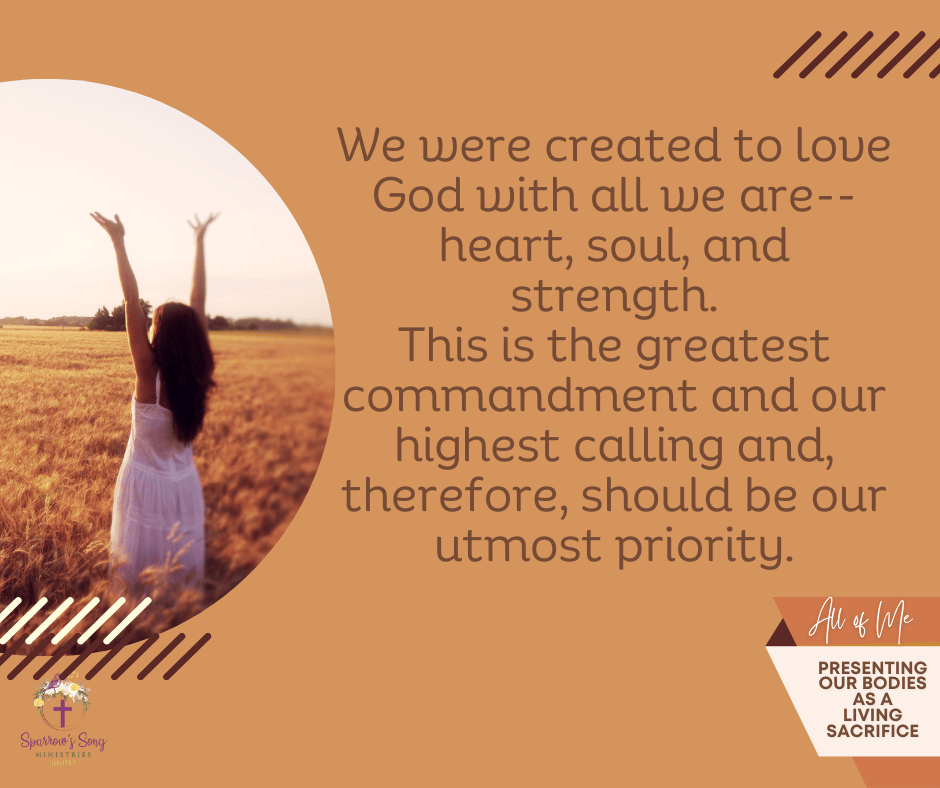 My greatest act of worship is to give Him all of me!
Romans 11 ends with these words:
For of Him and through Him and to Him are all things, to whom be glory forever. Amen.
The mercies of God should be our motivation to present our bodies as a living sacrifice!
When we consider such a great love, we will want to use our hands as instruments of love. Our lips will be valves of peace. Our feet will yearn to walk out truth.
We will want to give our all when we consider Jesus' great sacrifice.
When we consider God's goodness, offering our whole bodies in worship is reasonable! He has done so much. We should want to give Him our all.
Pause: Take some time to glean through Romans chapters 1-11 (or use the verses here). Consider the manifold mercies of God. This should give us all the motivation we need to give Him our all!
Prayer:
Dear Father,
Thank You for all of Your loving kindness and tender mercies. In light of all You have done, I give You all of me. I know that this is my spiritual act of worship. May my worship be holy, acceptable, and pleasing to You. I love You with all my heart, mind, and soul.
In Jesus' name
Amen
Praise:
Consider how you will present your body in worship today!