Cultivating Thankfulness to God: Week 4 ~ Thanks and Giving!
It's Week 4 of Cultivating Thankfulness!
Here is week four's Devotional Guide! There are nine days to complete the 30 days.
​Thanks and Giving Devotional Challenge Week Four​
Get Week One, Two, and Three here.
​Thanks and Giving Devotional Challenge Week One​
​Thanks and Giving Devotional Challenge Week Two​
​Thanks and Giving Devotional Challenge Week Three​
For this last week, I want you to level up our challenge one more time. During last year's Thanks and Giving Challenge, we were committed to turn "thanksgiving" into "thanksliving"! See last year's teaching on below:
I grew up singing the song "Every day is a day of thanksgiving/God's been so good to me, and every day He's blessing me." It is good to have times when we square our focus on being thankful. I hope that this past month has opened your eyes to God's goodness around you and all the many ways we can show our gratitude.
The truth is, Thanksgiving was never to be relegated to one season. Every day is INDEED a day of thanksgiving. As one church sign said, "We must turn THANKSGIVING into THANKSLIVING!
THANKSLIVING is a LIFE of thanksgiving where you are ALWAYS thankful to God for His goodness. Here are 10 ways to turn THANKSGIVING into THANKSLIVING.
1. Know that God is in control!
There is NOTHING beyond God's control. He is active and present in all of the happenings in our lives. When we trust Him, we can rest knowing that He is in control and knows what He is doing. He lovingly watches over us so we can put our hopes and trust in Him.
Behold, the eye of the Lord is on those who fear him, on those who hope in his steadfast love. Psalm 33:18
2. Know that He is Working for your good!
We can be thankful knowing that no matter the current circumstance, God is working all things together for our good. "God is able to orchestrate everything to work toward something good and beautiful" for us, despite what it looks like now.
We know that all things work together for good to those who love God, to those who are the called according to His purpose. Romans 8:28
3. Be content with what you have.
In 1 Timothy, Paul admonished young Timothy to be content with what he had. This is the way to resist the pull of the world. The enemy works overtime to convince you to believe you don't have the things you need at any given time. He wants us to have a spirit of ingratitude so that we become consumed with always getting more. Jesus is truly all we need; when we trust Him, He supplies our needs. In Him, we can be content.
Now godliness with contentment is great gain. 1 Timothy 6:6
4. Stop complaining!
You never know how much you complain until you consciously try to stop. The truth is you need to make an intentional effort to watch your words. Try replacing complaining with praise! When you do complain, replace those words by praising God for three things.
Do all things without complaining and disputing. Philippians 2:14
5. Do something for others.
There is great joy in giving and serving others. God's blessing will flow freely when you open your hands and give to others. This is especially true when giving to those who can do nothing in return for you. You are blessed to be a blessing.
Do not neglect to do good and to share what you have, for such sacrifices are pleasing to God. Hebrews 13:16
6. Count your blessings.
Periodically (daily, weekly, monthly), make time to count your blessings. Make a list of the blessings in your life. Keep the list somewhere that you can see every day. Read from it often and praise God for each blessing. Try a "Thankful" or "Blessing" jar.
Bless the Lord, O my soul, and forget not all His benefits. Psalm 103:2
7. Ask friends and family to hold you accountable
Ask a trusted friend, mentor, or leader to help you in your aim to live a life of THANKSLIVING. Sometimes you need some help remembering to be thankful.
Iron sharpens iron, and one man sharpens another. Proverbs 27:17
8. Thank God in advance.
If you wait until you get the things you are asking for, you will waste lots of time in ingratitude. WHEN you pray, believe that you HAVE received the things you've asked for. If you've asked in faith, you HAVE received them. Faith is the evidence. So don't wait. Go ahead and thank Him now!
Therefore I say to you, whatever things you ask when you pray, believe that you receive them, and you will have them. Mark 11:24
9. Thank God in the good and bad times
God is ALWAYS worthy of praise. Not just when things go our way. Learn to praise Him in the good times and bad. Even in the bad times, He is faithful to walk with you through EVERY trial. He even carries you when you cannot go on. Thank Him in EVERYTHING because He is working in EVERYTHING
In everything, give thanks, for this is the will of God in Christ Jesus for you. 1 Thessalonians 5:18
10. Look for God's hand in everything because He is working in everything.
We know God is ALWAYS at work, watching lovingly over His children and working for our good. We don't always see it because the enemy of our souls would have us live distracted by the things that go wrong. Instead, fix your eyes on Jesus and have a pure heart before God. Then you will begin to see His hands in every part of your life.
Blessed are the pure in heart, for they shall see God. Matthew 5:8
What other things do you practice to cultivate THANKSLIVING in your life?
We have a couple of days left in November, and I want to use this time to say thank YOU to all of those in the Sparrow's Song Family. I thank God for each of you! Your messages of encouragement bless my heart and "spur me on to love and good works" (Hebrews 10:24).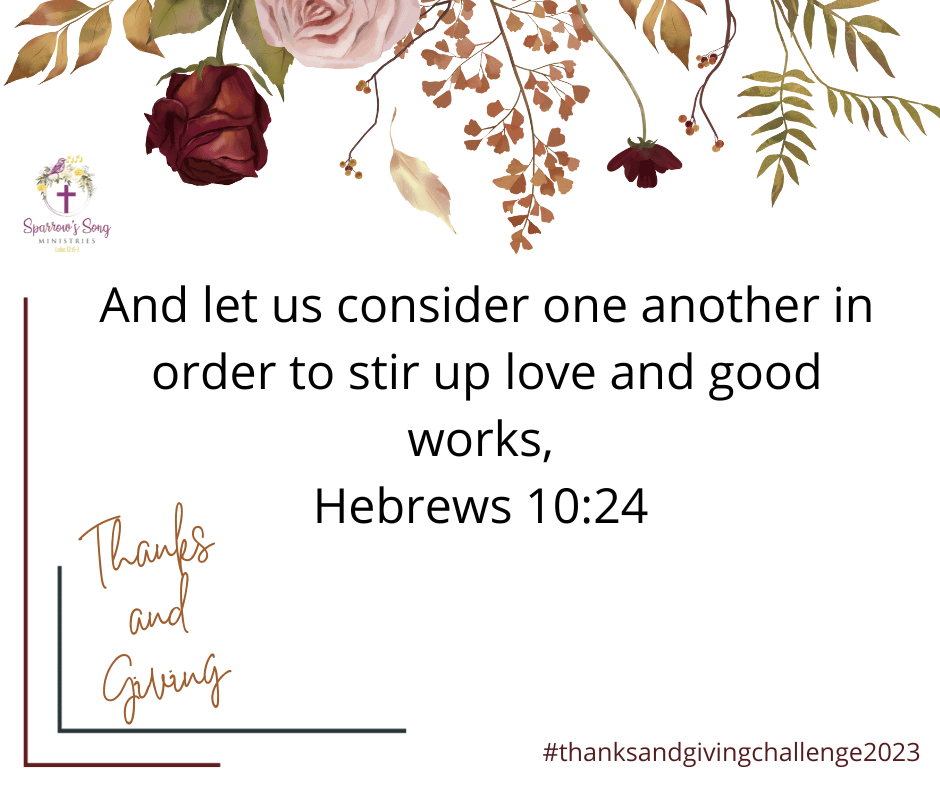 May the God of hope fill you with all joy and peace in believing so that by the power of the Holy Spirit, you may abound in hope. Romans 15:13
Your friend in the journey,