Cultivating Thankfulness to God: Week 3 ~ Thanks and Giving!
It's Week 3 of Cultivating Thankfulness!
Here is week three's Devotional Guide! If you are just getting started, that is ok!
​Thanks and Giving Devotional Challenge Week Three​
Get Week one here, and Week two here!
​Thanks and Giving Devotional Challenge Week One​
​Thanks and Giving Devotional Challenge Week Two​
During last year's Thanks and Giving Challenge, we were challenged to be content!
See last year's teaching on Godliness with contentment below:
The word cultivating hints at the fact that we have to do something! We must be intentionally thankful in a world where not enough seems to be the norm.
Let these words from 1 Timothy 6:6 both challenge you and encourage you in this season of thanksgiving:
Godliness with contentment is great gain.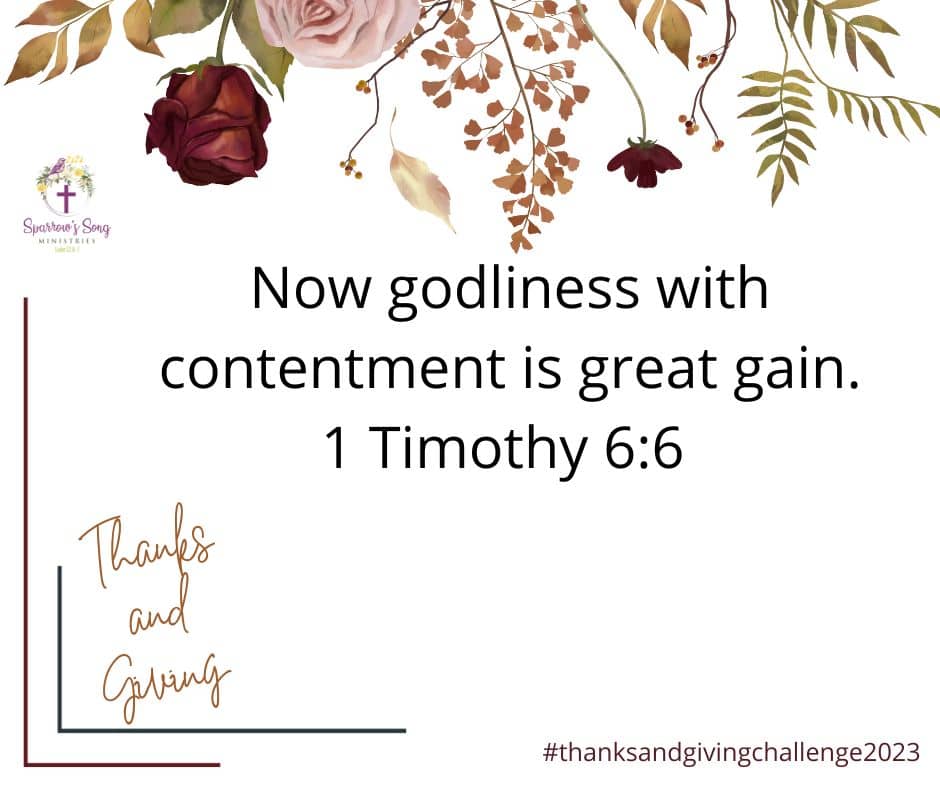 Paul wrote a letter to Timothy, a young pastor, under his tutelage. He wanted to encourage Timothy to pursue true godliness in the face of the corruption of leaders around him. Paul admonishes Timothy to teach the truth and avoid the way of the corrupt who think that godliness is a means for gain—a source of profit, a way to get rich (vs. 5). Sadly, this sounds like many leaders today.
Paul encouraged Timothy by telling him that godliness is a source of great gain but not in the way the corrupt leaders thought. It's not godliness and wealth or godliness and stature and significance.
It's godliness plus contentment.
con·tent·ment
/kənˈtentmənt/
noun
a state of happiness and satisfaction.
Contentment is an inner confidence one has that is based on the sufficiency of God. It is the sense that you have all that you need in Jesus! Serving God does make us very rich when we are thankful and satisfied with what we have.
Don't get me wrong. Being satisfied with what we have doesn't mean we won't desire more. It doesn't mean that we will never improve in life. We should always aim to better ourselves. Paul wasn't speaking evil about riches. Many wealthy people serve the Lord faithfully. Instead, Paul was warning Timothy of the misplaced pursuit of wealth. This pursuit can lead even the most faithful and devout down the wrong path (1 Timothy 6:7-10
Rather than focusing all our efforts on worldly gain, we should focus on personal integrity, and pursuing holiness in conduct, attitude, and thought. We CAN choose to be content in whatever circumstances God has given us. We are
Let these reminders help you pursue godliness with contentment:
You have everything you need to succeed in life at this moment 2 Peter 1:3
You are enough because you stand complete in Him Colossians 2:9-10
You have been given sufficient grace 2 Corinthians 12:9-10
You can steward this season of your life well because of Christ who gives you strength Philippians 4:12-13
You can keep going and keep growing because God began a great work in you, and He is faithful to see it through. Philippians 1:6
You can't lose when you live with a heart full of thanksgiving! Be thankful for what you have. Pursue personal integrity and pursue holiness, then be happy in Jesus!